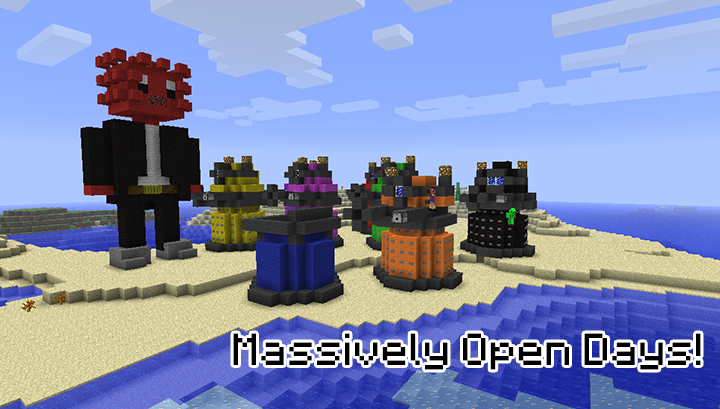 There are SO MANY teachers keen to see what all the amazing kids at Massively are up to, so we're holding two online open days coming up! This is gonna be a fun opportunity for us to show off our work in the mines and have some fun teaching newbies about Minecraft!

The days are:

We'll have the whitelist open so people can come and visit, and we'll need Massively Miner's to staff the landing zone to assist newbies.
This is great time to invite your Mum or Dad to come see what you've been up to @ Massively, or invite a friend to visit.. yay!
What Visitors Will Need?
In order to participate, visitors will need:
Your very own Minecraft account. You can signup @ http://www.minecraft.net/
To Download the Minecraft client – @ http://www.minecraft.net/download. We recommend you use the full client, not the web-based option for best performance (go onnn… its only a little download! ;P)
Setup a connection to the Massively Minecraft Server in the Multiplayer section of your Minecraft client – Our Server Address is: play.massivelyminecraft.org. You can also use the IP address which is: 63.141.254.138.
Ask Jo for more info if you need it! We definitely need helpers on the day! 
Seeya in the mines soooon!